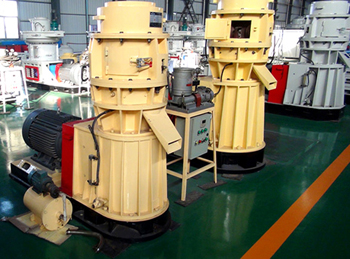 Flat Die Pellet Mill
Flat die pellet mill can complete the pressing process of biomass material successfully, and it is mainly used for materials of 3mm-50mm length and 5%-30% moisture content, such as the corn, cereal, beans powder, fodder, branches, bark, etc. This device is of big pressure, high maneuverability, and is suitable for small scale workshop productions such as the family farms.

Product Advantages
Flat die pellet mill, which is designed and developed by our company independently, is of reasonable structure and attractive appearance. It uses advanced straw action roller flat die pressing technology, of which the technical parameters still stay advanced level compared with technology aboard. Its pinch roller uses the thrust bearing bi-rotation principle, thus producing bigger pressure. In addition, it can adjust the pressure angle automatically, and guarantee the stability of the discharge material forming. The linear velocity of the flat die pellet mill compression roller is lower than that of the ring die pellet mill, therefore, its roller die abrasion is much slower. Besides, if one side working surface was worn, it could be turned over and use the other side. The flat die pellet mills produced by Henan Fote Heavy Machinery Co.,Ltd., are of reliable performance and complete specification, and are your ideal choice.
It brings huge production convenience and economic benefit for the users.

Advantages:
1. Big pressure, high product shaping rate.
2. Excellent particle density degree, even particle size.
3. High automation degree, convenient maintenance.
4. Little abrasion, long service life.

5. Small volume, easy movement.
6. Low production cost, practical and economic.

Your Enquiry
If you're in need of a Pellet Mill or Production Line you've come to the right place. Whether you know exactly what you need, or are in need of some guidance, we are here to help. Please feel free to contact us via Email or filling in the following form.