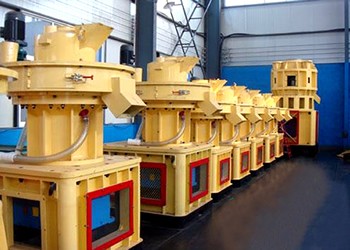 Pellet Mill for Sale
Pellet mill for sale is mainly used to suppress materials of big viscosity and easy molding, such as the wood, biomass, sawdust, corn straw, rice husk, bamboo shavings, palm fiber, etc. It is one of the commonly used devices in bio-energy industry, wood industry and farming industry,etc. This device is of unique structure, more reasonable structure and stability.

Product Advantages
Pellet mill for sale is mainly used by medim and large scale biomass particle enterprises. Compared with flat die pellet mills, it is of bigger output and lower power consumption. When the molding density and power are the same, the output of pellet mill for sale is 20%-50% higher than that of the flat die pellet mill. It uses big diameter compression roller, which is worn equally in the production process, thus decreasing the vulnerable parts consumption. The working interval between the compression roller and compression moulding can be adjusted by adding or decreasing the spacer, thus adjusting the produced material density. The pellet mill for sale produced by Henan Fote Heavy Machinery Co.,Ltd., is of excellent quality. Our pellet mills for sale receive good praise from countries and areas such as Europe, Indonesia, Australia, Russia all the time.
It can produce particles without adding any additive, and brings huge convenience and economic benefit for user's production.

Advantages:
1. High production, beautiful particle moulding.
2. Adjustable moulding density, multiple use.
3. High moulding ratio, high stability.
4. Convenient operation, simple assemble and disassemble.

5. Wide material application, long roller die service life.
6. Low power consumption, production cost saving.

Your Enquiry
If you're in need of a Pellet Mill or Production Line you've come to the right place. Whether you know exactly what you need, or are in need of some guidance, we are here to help. Please feel free to contact us via Email or filling in the following form.